Facebook is a popular social media platform, but can you drive sales through Facebook commerce or Facebook Shop to grow your business?
Nowadays, there is more to social media platforms than just making friends and networking. With a leading platform like Facebook, people can now sell and buy while socialising and making friends on the platform.
With over 2.9 billion monthly active users, Facebook is arguably a platform to be for almost everything and anything social and commerce.
Furthermore, the popularity of the social media platform makes it a leading destination for people to make money while socialising.
Want to build your online eCommerce store?
What's Facebook commerce?
So, what is Facebook commerce or F-commerce? It simply refers to conducting online business activities on a Facebook page or Facebook application.
It offers various eCommerce tools such as Facebook Shops which is an eCommerce platform that lets businesses sell their products on Facebook and Instagram.
See Also: Ecommerce Marketing: Facebook Or Pinterest? Which One?
The social media giant introduced Facebook Shops in order to help small businesses sell online with ease. In other words, Facebook is gradually becoming a powerful eCommerce platform with its Facebook Shops.
As a matter of fact, Facebook Shops make it easy for businesses to set up a single online store for customers to access on both Facebook and Instagram.
Driving sales via Facebook commerce
So, how do you drive sales through Facebook commerce? First of all, creating a Facebook Shop is free and simple. It allows businesses to easily choose the products they want to feature from their catalogue.
Also, businesses can customize the look and feel of their shop with a cover image and accent colours that really showcase their brand.
No matter their size or budget, sellers can bring their business online and connect with customers wherever and whenever it's convenient for them.
Awesome benefits of Facebook Shops
👉 Access to a promising audience.
👉 Lower marketing costs.
👉 Connect with customers.
👉 Connect with customers.
👉 Mobile-friendly.
👉 Seamless customer experience.
Below are the three steps to take in order to position your brand at the forefront and drive sales through Facebook commerce:
#1]. Open a Facebook Shop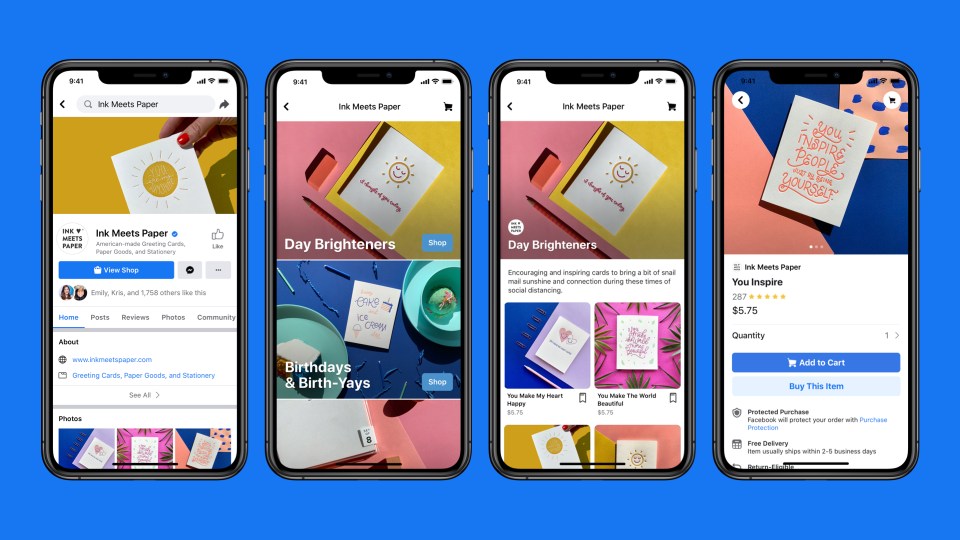 A shop on Facebook and Instagram is your online storefront where people can browse, explore and purchase your products on Facebook and Instagram.
With customisable collections and simple design tools, you can easily showcase featured products. Furthermore, you will effectively bring your brand to life and make shopping seamless for your customers.
People visiting your page will see a Shop tab — a smaller, native version of your online store for followers to buy products within the Facebook platform.
If you have a Shopify store, you can effectively speed up the process by syncing your Shopify store with Facebook. Upload your product catalogue to share each item's photos, availability, and price with Facebook users.
How Do I Create a Shop on Facebook in 2023?
👉 Sign up with Commerce Manager.
👉 Fill in your business information.
👉 Configure your settings.
👉 Fill in the Payout section.
---
#2]. Sell via Facebook Marketplace or Instagram
Are you selling to local customers? Make sure you list your products on Facebook Marketplace. It's the way to go whether you're hosting pop-up shops or operating permanent brick-and-mortar stores alongside your website.
The fact is that over 560 million people are using Facebook's social commerce feature to find products and services from local businesses.
People can find your Facebook Shop on your business's Facebook Page or Instagram profile, or discover it through stories or ads.
From there, people can browse the full collection, save products they're interested in and place an order — either on your business' website or without leaving the app if your business has enabled checkout in the US.
---
#3]. Enable Facebook Pay
As a business owner, you should be aware of the fact that shoppers nowadays now demand choice. I meant, when shopping, shoppers now demand choice when it comes to sizes, colours and even the modes or methods of payment.
According to studies, about 9% of shoppers will abandon an online shopping cart if the retailer doesn't offer their preferred payment method.
For some shoppers, including Facebook Pay (also known as Meta Pay), offers the best way for them to pay for what they purchase on the platform.
Payment gateways such as Meta Pay, PayPal or alternatives can store a customer's credit card info for future use. Also, Facebook Pay allows retailers to monetize customer support requests through Facebook Messenger.
This means customers can conveniently pay for new purchases throughout the conversation and no app switching is necessary.
PLEASE SHARE ON PINTEREST